Institute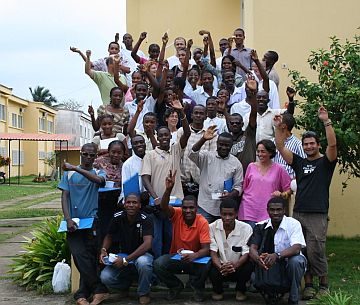 ISP-STP
Bairro da Quinta de Santo António
C.P. 41 São Tomé
São Tomé and Prínci
+239 223876
+239 223896
Manuel Penhor
Research & Teaching
ISPSTP is higher education public institution, created in 1998 with the offer of 3 B.Sc. degrees, in Math/Biology, History and Geography, and Portuguese/French. Now ten different graduation courses are proposed, ranging from Portuguese and French studies, Math, History, Biology, Public Relations, Tourism, Managing, Business and Administration and Agricultural Sciences. Soon will have also the B.Sc. and Graduation levels of Physics/Chemistry.

ISPSTP also proposes 4 M.Sc. courses, namely, Quality and Security in the Food chain, Environmental Education, Teaching Sciences and Teaching how to read and write.

The institute has now enrolled about 1000 students (for an estimated population of about 134 000), split into three periods in a day and in the different areas of training.

ISPSTP holds close relationships with other institutions of higher education, standing out the protocols with the University of Algarve (Faro), the University of Évora, the Université d'Angers (France), and the Instituto Politécnico de Bragança.