Institute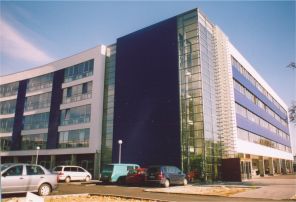 Katedra elektrotechniky, automatizácie a informatiky
Technická fakulta

Slovenská polnohospodárska univerzita

Trieda Andreja Hlinku 2
949 76 Nitra
Slovenská republika
+421 (37) 641 4750
+421 (37) 74 17 003
Zuzana Palková
Research & Teaching
The Slovak University of Agriculture (SAU) in Nitra is a top educational and scientific institution whose main aim is to provide students with a university education, drawing on scientific knowledge in agriculture and neighbouring areas, as well as on cretoive scientific research. Due to the fact that it is the only university of its kind in Slovakia, it has acquired a unique, national status. Its aim is to offer such education, research and advisory services which would create conditions for the development of agriculture and its neighbouring areas, the development of Slovak rural areas and their linking to the development of the international community. Meeting these aims contribute to the educational, scientific, technical, and economic growth of society. This is done in harmony with the world scientific and cultural trends. Following national and generally human traditions, the SAU is a significant part of the Slovak Republic's academic and research institutions network.
These 6 faculties offer current accredited study programs:
Faculty of Agrobiology and Food Resources
Faculty of Biotechnology and Fodd Sciences
Faculty of Economics and Management
Faculty of Engineering
Faculty of European Studies and Regional Development
Horticulture and Landscape Engineering Faculty

Faculty of Agricultural Engineering. The first efforts of its establishment started already in 1946. The basic role of this faculty is education of professionally trained operation technicians and engineers. From 1997 credit system ECTS (European Credit Transfer System) launched at SAU in Nitra. According to ECTS student can create his own study plan, choosing school subjects from the offer of FAE, offer of all SAU in Nitra and even form the offer of other Slovak and foreign universities. Faculty of Agricultural Engineering has been renamed to Faculty of Engineering in year 2008.

In Automatization and Informatization Technics in Management of Production Quality study program Department of Electrical Engineering, Automation and Informatics provides teaching of following subjects:
- Automation
- Automation of Technology Processes
- Electrical Machines and Mechanisms
- Electro-energetics
- Electrical Engineering
- Electrical Engineering Regulations
- Electronics
- Information and Database Systems
- Information Systems
- Microcontrols in Regulation Technics
- Modern Communication Engineering
- Programming
- Technical Cybernetics
- Technical Measurements
- IT Utilization
- Basis of Automation
- Basis of Informatics