Institute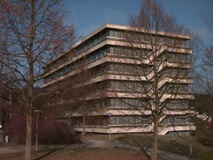 Research & Teaching



The particle physics group at the Institute of Physics is working on experiments for the search of physics beyond the standard model and investigating the role of elementary particles in cosmology, concentrating on the neutrino and its properties.

The experimental research on neutrinos emcompasses neutrino oscillations, which are studied in the Double Chooz and JUNO experiments, the search for neutrinoless double beta decay with the GERDA experiment and the measurement of the neutrino mass in the ECHo project. The CRESST experiment is trying to detect the dark matter in our galaxy using cryogenic particle detectors. Important components of these experiments were developed and constructed in Tübingen.

Further groups at the Institute of Physics work in the fields of nuclear physics (study of nuclear force via proton and photon induced reactions), in solid state physics (superconductivity) and quantum optics (Bose-Einstein condensate).

The Kepler Center for Astro and Particle Physics brings together scientists from particle physics and astro physics, both in experiment and theory. Common colloquia and lectures offer the opportunity to focus on these subjects within the program of the 4-year Bachelor education in Tübingen.